Gary is the heart and soul of the Villa Vineé staff! He has been employed with Robert Hancock and Company for 30 years- and spent 27 of those here at Villa Vineé! It is safe to say he knows this place inside and out.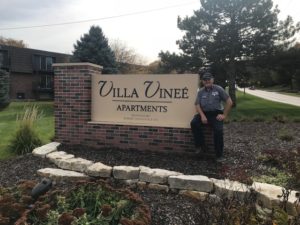 He states there is no other company that he would rather work for and deeply values the relationships he has made over the years. He is an expert groundsman and particularly loves getting his hands dirty and showing his creative side in the spring with flower bed arrangements.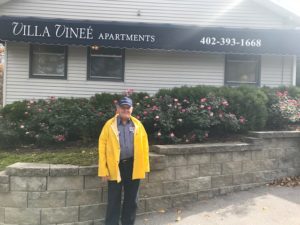 You may see him zipping around the property on his Kubota or clearing the side walks with his trusty leaf blower! He works so hard to keep this place in tip top shape and to provide beautiful landscapes for our residents.
Gary is a father of two boys and a grandfather to three boys and three girls! When they are not keeping him busy, he is tirelessly working on his home renovations. His house, which he has lived in for 36 years, is only 16 feet wide! This house was originally built with no bathroom and none of the floors are level! The two-story dwelling is just as unique as Gary is, and he has shed blood, sweat and tears making his house a home.