Need to brush up on your Irish Fiddling Skills  or you may want to become one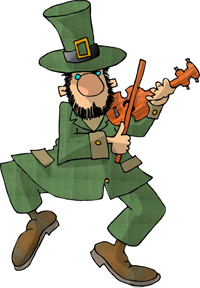 before Sunday? Here is your chance. The Irish Fiddling Camp  is once again being held in Avoca Ia March 13, 2013 – March 15, 2013 at The Old Avoca Schoolhouse.
 The Old Avoca Schoolhouse Address: 504 Garfield St,  9am-1pm Admission: $60-$150 Contact: Deborah Greenblatt P:402-275-3221   The sessions will be led by championship fiddler and author, Deborah Greenblatt. You can sign up for 1, 2 or all 3 days. Brush up or learn melodies, harmonies, chords and more.
Avoca Ia is a quick 45 minute drive from Omaha. Flyers with information about the camp can be found at our South Park Clubhouse or visit www.visitomaha.com for those wishing to attend.  Happy St. Paddy's Day. . . and Let The Shenanigan's Begin!!