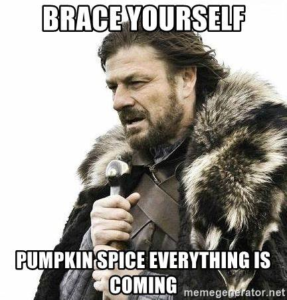 Here it comes,
These perfectly cooled days this week has gotten all of us here at Peony Village in the Fall Spirit, I can smell the sugary sweet aroma of Vala's Pumpkin patch from here. You can bet on me smashing on one of their bestselling Cup 'O Cookies in the near future. This harvest season starts September 1st so its coming mighty fast. Its time for all the things pumpkin spice and spooky and we cant express how welcoming we are for it.
If you're not as in the spooky spirit as we are that's ok. Here in Omaha there are so many things to get you into enjoying the staples of this season for many different preferences. So here are a few appetizers for this season to get you really into it
First and foremost Vala's Pumpkin Patch, we've all been there 1000 times but we all have a blast regardless. The nostalgia, the food, the hayrack ride and overall ambiance is second to none, they also have new stuff every year and yet the same stuff from 20 years ago. It's always an experience and just the thing we do here in Omaha. I mean have you ever met an Omaha native that hasn't been there? Light on the spookiness for the kids but still fun for all ages. September 13th is their opening day for the season. I'll see you there because I already know your going. Click the link for more info – https://www.valaspumpkinpatch.com/
For history buffs and more adventurous individuals the Midwest Paranormal History Tours would be a fitting choice. Their tour season starts on August 16th to October 26th . Plenty of time to explore various locations and discuss morbid lore and legends explaining the darker sides of Omaha at/about various locations. Many locations will be offered including: Fort Omaha Campus ,The Old Stockyards, Multiple Cemeteries and of course Hummel Park to name a few. Tickets are $14/person and the tours last around the 90 minute timeframe. It is also recommended that due to the subject matter and overall feel of tours offered that children below the age of 13 should not attend. Private group tours are also offered! Follow the link for more info – https://mphtours.com/
Lastly we have on of the most famous events in the city, The German American Society's 135th Annual Oktoberfest! September 20th & 21st! This event is huge so be sure to account for parking as it has been going on forever and is very popular. There will be all sorts of Deutsch fare including: Food, Dancing, Music and of course German bier. Due to the popularity and 2 day only event I wont lie to you it gets pretty packed and fast but if you can handle it is without a doubt a celebration to get you eased into this Oktober season seamlessly. Hope to see you there and drinking responsibly. For more info follow the link – https://www.germanamericansociety.org/events/germanday_oktoberfest/
Lets start off the season right and responsibly.
Prost!
"Designers want me to dress like Spring, in billowing things. I don't feel like Spring. I feel like a warm red Autumn."
-Marilyn Monroe