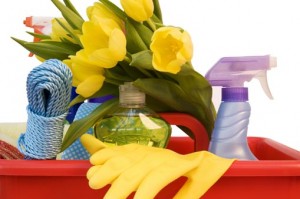 Isn't it Spring?! Sure doesn't feel like it! I woke up to a view of rooftops blanketed in white. Our apartments feel like snow globes on mornings like this. Very pretty, but really, I am getting seriously grumpy about coat weather. Every year, around this time, I start to get fidgety. It's usually around this time that we Nebraskans get fooled by a little warm spell. The buds on some of the early blooming trees start to swell, and the crocuses get confused and start to poke up through the soil. I call it the Spring-tease.
Happy first days of spring! You know what that means, it's time to clean up and de-clutter! You've been collecting dust all winter so it's that time of year when a major cleaning is super important! Spring cleaning is not just so your home looks good, but so you feel good too! Where do you think all these common colds come from during the winter? A lot of them come from being stuck inside with germy air and touching unsanitary surfaces of your home. You track dirt & germs in from the outside though out winter so Spring cleaning is your perfect chance to clean every surface of your home! Spring is the season of renewal and rebirth- Don't you want to feel fresh and new?
Need another reason to spring clean? It just feels like the right thing to do! It's getting warmer out, the windows are open, and the flowers are blooming. This is your chance to clean and spruce up your home to feel amazing all around.
Are you taking Spring cleaning to a whole new level and looking to move into a new home?! Well at Pinhook Flats, you will not only experience a great floor plan of studios, one bedrooms and two bedrooms; you will receive amazing customer service and amenities like a 24 hour fitness facility, 24 hour business center, a pool, and underground climate controlled garage. We are also conveniently located by dining & entertainment as well as universities. Stop on by or call us today, we look forward to hearing from you and showing you, your future home!