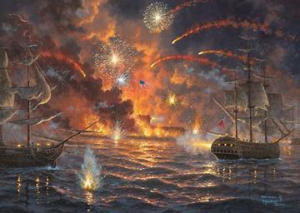 By the rockets red glare and bombs bursting in air! It's surely that time of year, Independence day!
We all love to celebrate The Fourth in good Ol' Merica fashion by lighting off fireworks and all sorts of ordinance. We here at Four Seasons understand your patriotic need to light off lady fingers, fuzz buttles, snicker bombs, pirch burners, finger blasters, gut busters, zippity do das, or trap flappers, spleen splitters, whisker biscuits, honey lighters, hüsker düs, hüsker don'ts, cherry bombs and nipsy daisers, with or without the scooter stick!
However, we DO NOT allow the discharge of fireworks or ordinance on the property under any circumstance (Even snakes and sparklers even if it's the only ones you like) and in doing so would be in violation of your lease agreement. I would recommend instead going to a professional pyrotechnic show it will undoubtedly save you money rather than quite literally watching your hard earned money go up in smoke, shock and awe.
Here are some shows in the area you could check out:
METRO CREDIT UNION CELEBRATES AMERICA
When: Friday, June 28, Concert – 6pm, Fireworks – 10pm
Where: Memorial Park (6005 Underwood Ave)
What: Free concert featuring Little Steven (Steven Van Zandt). Followed by fireworks around 10pm.
COLLEGE HOME RUN DERBY & THE OMAHA WORLD-HERALD ANNUAL INDEPENDENCE DAY FIREWORKS DISPLAY
When: Saturday, June 29 – 7pm
Where: TD Ameritrade Park Omaha (1200 Mike Fahey St)
What: TD Ameritrade College Home Run Derby at 7pm, followed by the annual Omaha World-Herald fireworks show.
Information: $10+; www.collegehomerunderby.com
LAKE MANAWA FIREWORKS
When: Saturday, June 29 – 10pm
Where: 1100 S Shore Dr. Council Bluffs, IA
What: Enjoy the beautiful lake and a free fireworks show at dusk.
OMAHA STORM CHASERS GAME WITH FIREWORKS
When: Thursday, July 4 and Friday July 5, game at 7:05pm
Where: 12356 Ballpark Way Papillion, NE
What: The 51st annual Independence Day Fireworks Extravaganza presented by First National Bank with the 'Biggest Fireworks in the Omaha Metro' will blast off following the Storm Chasers' contest on July 4th & 5th.
Information & Tickets: Ticketreturn.com
RALSTON'S 59TH ANNUAL INDEPENDENCE DAY CELEBRATION WITH FIREWORKS
When: Thursday, July 4, Parade – 1pm, Fireworks – 9:30pm
Where: Ralston Arena (72nd and Q Street)
What: Community celebration with picnic in the park, parade and fireworks.
Information: www.ralstonareachamber.org
We hope you have a beautiful and safe Fourth of July season!
"If it doesn't set your soul of fire, Its not worth the burn."
-C. Churchill