Here at South Park Apartments we are always thinking of creative ways to Go Greener!! Sometimes the simplest of ideas go overlooked: instead of buying new glass canisters, just wash out old food jars when they're empty to store your bulk food items. We've been doing this for awhile at our rental office and Clubhouse and  we have accumulated a fair share of glass peanut butter jars (we're big natural peanut butter fans) which we now use to store items like oatmeal, granola, etc.
We are sure you like our glassware looking clean and sticky-free, so first soak the jars  and then scrub off the old food label. You can always get some pretty blank food labels to add a nice homespun touch, although regular labels or masking tape would work just fine.
After a thorough cleaning and de-labeling, a simple spaghetti jar  also has many great uses:
 A drink shaker or cold drink storage: add some lime juice, fresh ginger, basil or some cucumber to a jar of water, put the lid on and give it a little shake.  Then stash in the fridge until you need some refreshment, or use one to make your cold-brew coffee, or fill it up with your favorite Sweet Tea for these hot and humid summer days. Then stash in the fridge until you need some refreshment, or use one to make your cold-brew coffee!
  Breakfast to go: add oatmeal, dried fruit and a little flaxseed to a jar and toss in your pack. Once you're at work, at some hot water, mix well and enjoy.
  Leftovers: instant non-plastic, non-leaching, non-staining, BPA-free container for food. Great for soups.
  Storage of bulk foods: re-use what you've got for storing sugar, flour, grains, rice, etc. from your local grocer's bulk food section.
  Organization: during our ongoing green renovation, we've amassed various screws and nails of all sizes. The jars help keep things organized, are very durable and clear so you can see what's inside.
  Gifts: we had an explosion of okra this summer. We shipped off our little darlings in these jars to our happy neighbors.
  Make your own flavored olive oil: fill a jar with oil, add some herbs like rosemary or lemon verbena, cap tightly and let sit for a few days. Then enjoy over salad or on pasta.
  Ribbon or string/yarn/twine storage: cut a hole in in the top for a twine dispenser or slit for ribbon dispenser.
   Piggy bank: cut a slit in the lid, decorate with a ribbon or recycled wrapping paper, and let the cents add up.                                                                                                                                                                                                                                                Do you want more smart and Green ideas for getting things done around your home?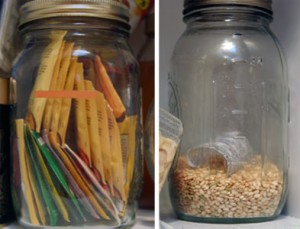 Visit  http://homehacks.apartmenttherapy.com/2010/